Disney Death Tour is neither endorsed by, nor affiliated with, the Walt Disney Company. The tour operates in part on a logic of playfulness and parody, but it is not intended as a mockery or critique of the Walt Disney Company, guests of Walt Disney World, or the many individuals who have lost their lives within the park. Instead, Disney Death Tour creates a means for visitors of the park to encounter the deaths that occur within the park.
The careful construction and subsequent hypermediation of space at Walt Disney World offers a useful means of theorizing the ancient Greek notion of polis (πόλις), in that the park forms a unique body of citizens apart from the chōra (χώρα) of its surrounding territories (Orlando and Florida). Walt Disney theme parks are sites of no discourse—visitors pay a premium for a visceral experience that is meticulously predetermined and nonnegotiable. These sites exist as an extension of the United States' increasingly commercialized democracy, and thus present discrete opportunities for thinking about how we might renegotiate and restructure civic potentials, writing publics, and commercial participation in forming spatial discourses.
It is no secret that Walt Disney World operates at the level of affect and attraction as opposed to logic. It works not on a paradigm of true/false, but of attraction/repulsion. Like Proust's involuntary memory, it strikes directly at the visceral and intuitive. Or to borrow from Roland Barthes, Disney World exists as one continuous punctum as it constructs a personal image with and for us. These parks are designed as spaces that suppress analysis and enhance the visceral, curated to stress magic, playfulness, happiness, and wonder. As we explore throughout the webtext portion of this tour, this paradigm excludes things like accident, death, mourning, and memorial, and in doing so makes them abject. That being said, Disney does acknowledge death in one unique way, through their close support of organizations like the Make-A-Wish Foundation, a non-profit organization that arranges experiences or "wishes" for children diagnosed with life-threatening illnesses. So while Disney does not allow for deaths that occur within the park to be acknowledged or memorialized, part of its magical performance exists to comfort the dying.
As we discuss at the end of the webtext version of this tour,1 Disney holds special significance to us, making the MEmorial a well suited approach for negotiating our personal relationships to the parks. This installation is not intended as insurrectionary, but as a means of mediating and participating in complicated public and spatial discourses. In addition, Walt Disney World's reliance on its visibility and careful articulation of experience and space within its parks situates it as an easily identifiable microcosm for thinking about digital approaches to democratizing spatial rhetorics in a similar way that Laurie Gries (2013) uses Shepard Fairey's iconic Obama Hope image to demonstrate her iconographic tracking methodology. In this way, Disney Death Tour serves as a rhetorical field method for implementing augmented reality interventions into other hypermediated spaces, and explores the ways in which writing studies can participate in entertainment culture.
Unlike other spaces of public gathering, individual "citizens" of these parks are barred access from the typical means of civic participation available in urban spaces, such as organizing protests or leaving memorials. Thus, if we are to construct a better polis, we must acknowledge the whole body: corporate, civic, living, dead. One of the many ways this tour makes its intervention is through examining the consequences that emerge as a result of the conflation of civic and corporate space assembled within Walt Disney World, and in turn offering a digital tool for intercalating memorial discourse into this space. Unlike paranoid conspiracy theories and academic critiques aimed at Disney's aesthetic formations, Disney Death Tour is a rhetorical intervention that operates both as a critical webtext and as an embodied critique designed to be used within the space of the park. When accessed from a desktop interface, this webtext offers a distant reading of the park's spatial configuration through both its interactive map and this webtext. But when accessed from what John Tinnell calls the "post-desktop interface" of a mobile phone and the accompanying augmented reality (AR) interface, this tour forces users to embody the critique and interact with the space. In doing so, Disney Death Tour also demonstrates the rhetorical affordances of the technological genres of mapping and AR as they relate to civic discourse within corporate and commercial spaces.
The Disney Death Tour exists in two capacities. One version is designed for the desktop and laptop computer, where visitors can comfortably read through the tour as a critical webtext without needing close proximity to the park. The linearity of this text portion offers only one suggested route, and this portion of the tour can be taken in any order. The second version is an experimental AR walking tour that involves using the map provided in this mobile-friendly webtext to discover sites of death throughout the park, as well as the Death Tour's companion smartphone application, Hidden Mortimers, which interjects emplaced markers throughout the park with the aid of an augmented reality interface. These digital tools evolve this webtext into a location-based and context-dependent critical intervention of Walt Disney World in Orlando, Florida, offering new rhetorical affordances and potentials for civic discourse within this otherwise closed corporate space.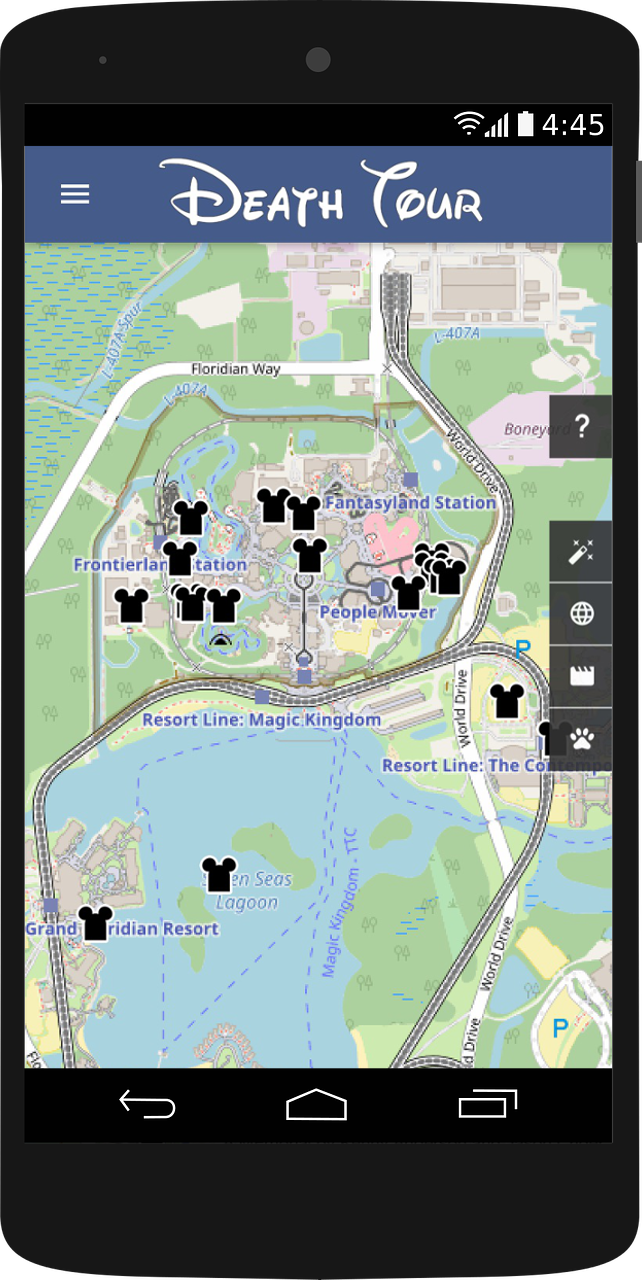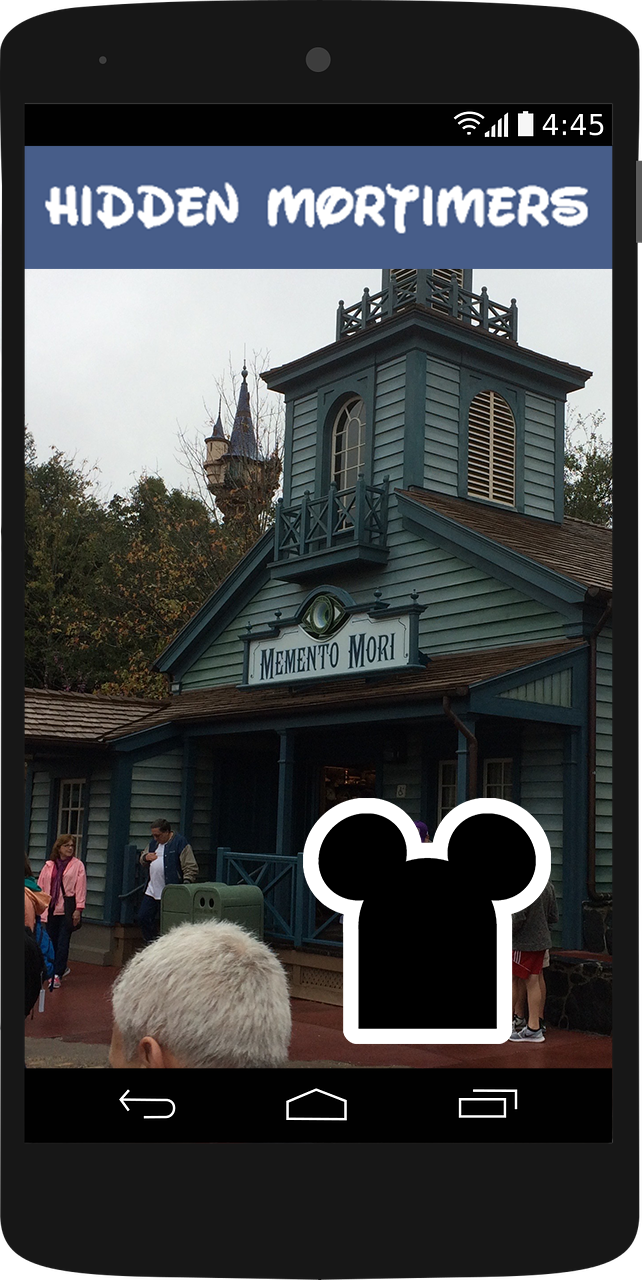 A Note on Hidden Mortimers
At the time of this publication, the Hidden Mortimers mobile phone application is not available for download. While augmented reality development is becoming more and more accessible to the average consumer, it is not without its roadblocks. There have been multiple iterations of Hidden Mortimers across several augmented reality platforms, each platform containing various affordances and limitations. We constructed the first mockup in HP Reveal (formerly Aurasma), an easy-to-use AR platform for mobile phones with a streamlined user interface. Like most free AR platforms though, HP Reveal operates strictly on image recognition, meaning the real-world information that users interface with (called "triggers") to access the app's content ("overlays") is limited to easily recognizable images. While Walt Disney World obviously contains a near limitless amount of visual information to augment, this would require users to go through the unintuitive process of locating and scanning signs or images corresponding to each death in order to access the memorials, and thus did not quite fulfill our requirements. We experimented similarly with the audio-based AR applications Geotourist and Detour. While these applications allowed for information to be triggered based on GPS coordinates, they lacked the ability to include and arrange visual information in the ways we needed.
As such, we sought a hybrid of the two ways these AR applications arranged their information, an application that would trigger based on location, but arrange information visually. Because none of the currently available AR applications allow for this, we created a standalone application in the game development platform Unity, building off of Jacob Greene's tutorial for humanities AR development, "Introduction to Mobile Augmented Reality Development in Unity." This let us mark physical locations with Mortimer tombstone markers, demarcating these spaces to be explored in alternative ways.
In addition, this allowed for what we term "punctum notifications," where the push notifications of a smartphone can update visitors with the sting of death as they make their way through the parks. When users of the app come within close proximity to the location of a death, a push notification alerts them to the memorial tagged to that location, punctuating their embodiment of the parks with a visceral reminder of a different way this space was once inhabited.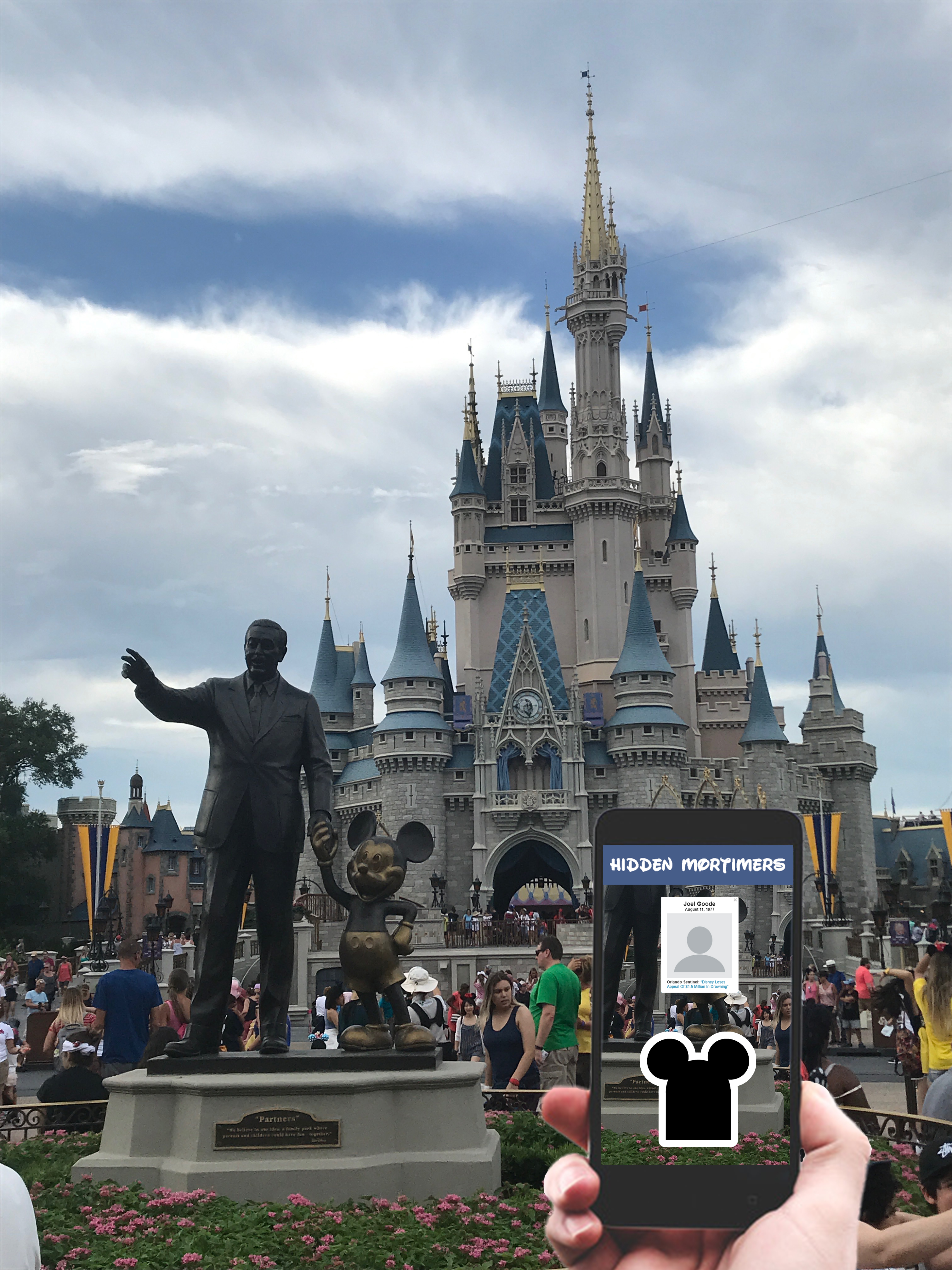 1 See "Punctum Notifications" section.